With this very difficult economy, one thing we can all appreciate is: homeless people doing jokes. We're not going to help them with the whole "house thing," but maybe we'll give them a nickle so they can feed their drug and alcohol addictions and continue to slowly kill themselves.
Ba da ching.
OMG this is the most depressing post ever!

So here are the top ten homeless signs!10. Kidnapped Wife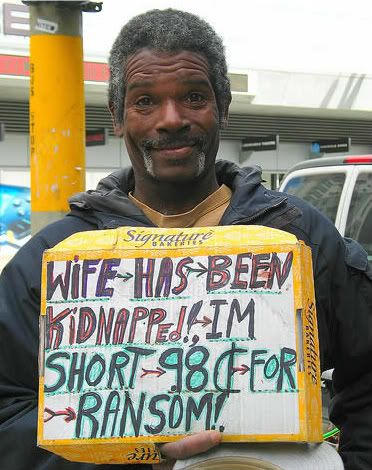 Obviously sponsored by Signature Bakeries. I really like the art direction of this piece. The homeless man also gives us, the audience, a clear direction on this literary journey with the use of ornate arrows. This reminds us to read the word that is written next to the word we have just read. It's an ingenious device that expands our understanding of scholasticism. Also he smells like poop and pee.
9. Will Eat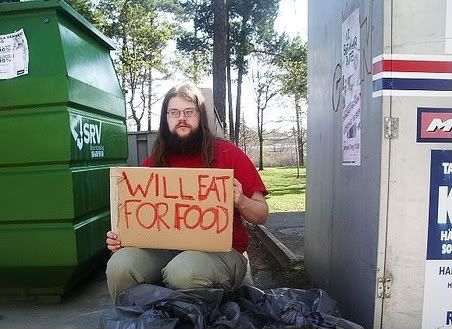 On old one, but a classic. Favored by the more hefty of the dirty hippie population. A popular variation is the "will drink for beer." When you see a hippie with this sign, tase them.
8. No Legs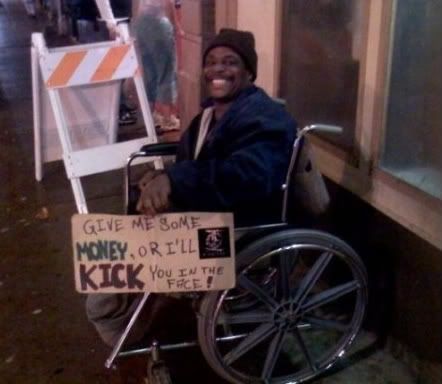 When God gives you lemons, drink yourself to oblivious, and pass out on a rail road track while trying to fiddle with yourself, then wake up legless with an awesome sign idea. We've all been there.
7. They Blew Up My Death Star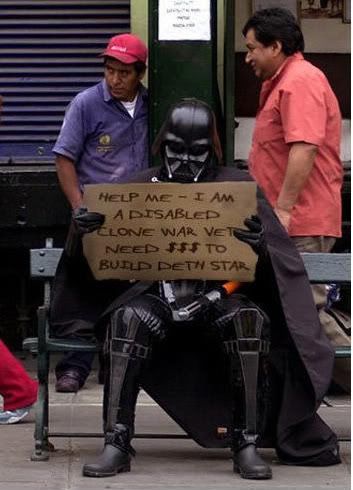 My favorite kind of homelessness: science fiction related.
6. DAH YIDIL - DAHH YI'DIL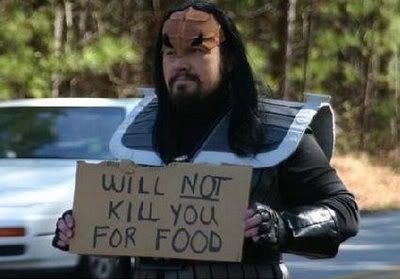 Again ... best kind.
5. Need Money For ... WiFi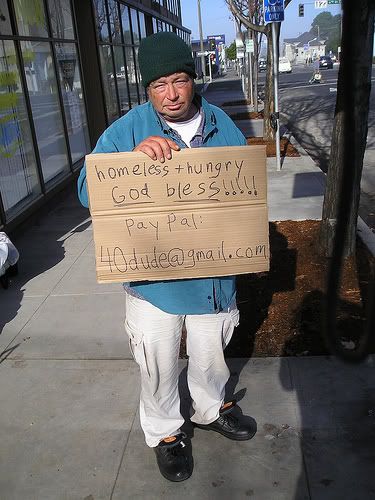 Homeless people need the intraweb too. What are they supposed to do? Look at porn in
just
magazines?! You heartless monsters.
4. Gandalf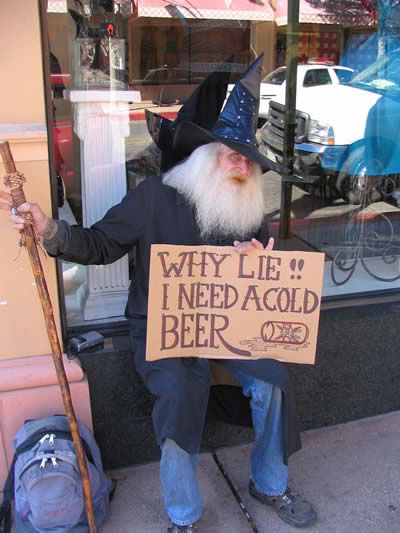 Average sign, but if you look like a Wizard I will give you money. Before the credit crisis, this is how our economy worked.
3. Get In My Stable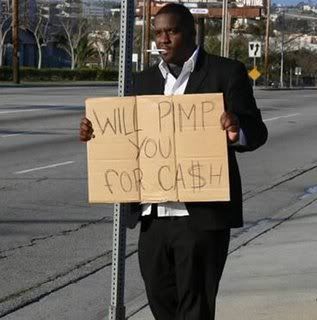 Not really a homeless sign, but I appreciate the effort. In a completely unrelated note, I just got a new job :/
2. Snip Snip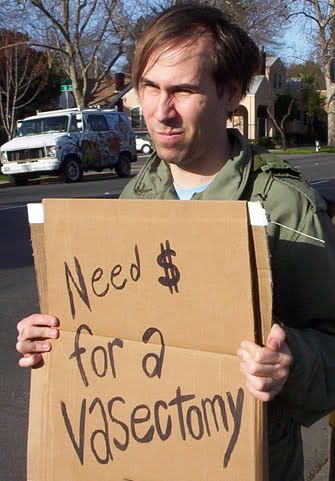 It's not exactly "need money for food" but you gotta appreciate a man with a goal. His gain is the world's loss. If any man should father children, it's this man. I wish he was my dad. I wish he was everyone's dad.
1. This Guy
If you aren't like the vasectomy guy, then get down on your knees, and pray. Pray that you someday have a son who grows up EXACTLY like this man. This man is why caveman painted on walls. This man is why America is great. This man is why God is good. This man is why the sky is blue, grass is green, and Carson Daly strangles prostitutes. This man is why we get up every morning, put our tights on, and go to work. This is what we're fighting for overseas. If you don't love this man, you don't know how to love.
He's not homeless. He probably lives in a castle.
He's not blind. He probably has hawk-like sight.
And he's not sorry. Nor should he ever be.
Related Picture:
Wonder Woman, MRN Sexy Robot, Elin
Thank you to
Seattlest.com for the shoutout. You my bro now.
and ... to
Think For.us