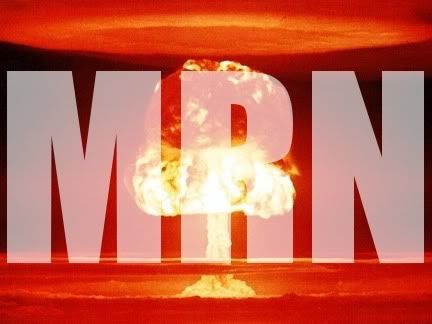 Get down on your knees and welcome a new feature, "MRN RANTS!" You will love it and you will agree with everything I say, or I will destroy your village. Like most people, instead of blood and organs, I'm filled with anger. I gots the angry real bad sometimes. I just don't know what to do with it. I can't destroy the world, but I can't
not
destroy it either. It's a tough one. So, for the sake of humanity and the physical planet itself, it's best that I find ways to vent. So I will, on occasion, use my baller-a$$ website to let the angry out.
Today's topic:
People I'm pretty damn sick of. 5. Spencer Pratt and Heidi Montag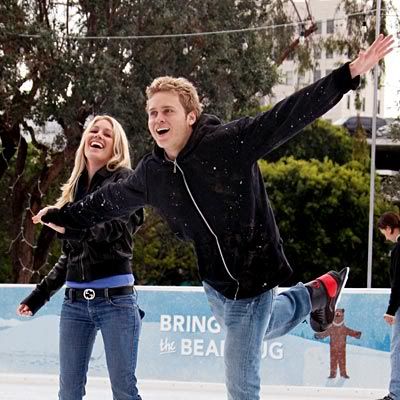 WHO THE MOTHER EFFIN F ARE YOU MOTHER EFFERS?!!!??? You don't actually DO anything! You just exist, you just breath my precious air, drink my succulent water, drive on my sexy roads, and live in my hellish world. Well stop it, all of it. You are fake people on a fake "reality" show about fake people who live in a fake world and do fake things. I'm pretty damn sure neither one of you even have genitals. You are barbie and ken, all plastic with nothing up or downstairs. You disgust me. You are like buttholes on elbows, completely useless. Do me and the rest of the world a great big effin favor ... STOP. Just stop. No... shhh ... stop. Just stop. All of it. No more ... just ... stop.
4. Madonna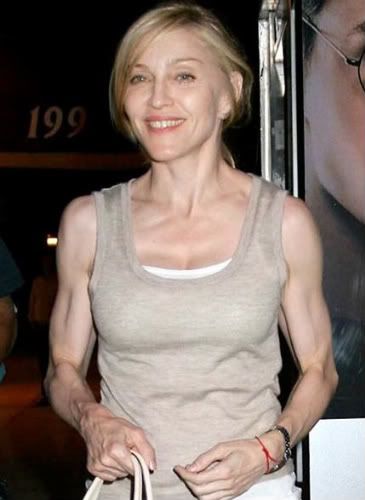 Sick dude, sick! You are old. You look old. You act young. It's confusing and creepy. You are not even a MILF, you are bordering GILF age, minus the "F." You are just a GIL. You look like Skeletor after years of abusing meth. You look like a Kentucky Fried Chicken dinner after all the chicken has been eaten. You look like black death. I fear you. If I went to one of your concerts, I would think the Grim Reaper had come to take me to jeebus. Stop scaring kids, puppies, and heterosexuals. Your skin is so translucent, you look like a new species of squid that scientist discovered on a deep sea expedition. You need to wear clothes now. It's over.
3. Oprah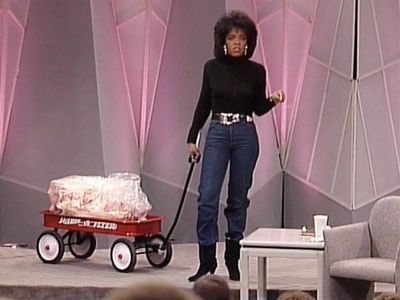 Oh yes I am. I sure am about to make fun of Oprah. She seems harmless enough at first, but keep looking ... she's one of the worst people in America. How did she become famous? Here's how: she did crap tv for a decade, the worst kind of Jerry Springer-type shows. Shows about "fat hermaphrodite prostitute skinheads who marry their daughters." Actually, that was a good show, but the rest of it was complete and total tabloid crap. Then one day Oprah put down her bucket of chicken-pot pies and decided to be all lofty and high brow. Bullshit. I call bullshit. She made her money and fame by doing the worst kind of tv and then suddenly pretended that never happened and she was above all of that. The only thing Oprah is above is the 200 pound mark.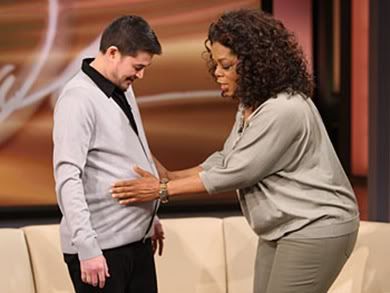 Why the fat jokes you ask? Because nobody deserves them more than her. She was always a big lady. Fine, who cares? Then she spent a summer on a big diet (yeah right) and came back as super skinny Oprah. She told her audience that she did it with diet and exercise. And I guess diet and exercise magically took care of the million pounds of extra skin she would have had too. And thus began the parade of diet gurus that would help her and the millions of sheep in her audience lead a life of dangerous yo-yo dieting. She's probably caused more physical harm to women than Mike Tyson with a suitcase full of roofies.
Every year it was a different size, and a different diet. Every season she swore to her audience this was the only way to live. And the dum-dums in the audience obeyed and followed, and had the same effects that Oprah had. They got thin, then got super fat again. Diet's don't work. Just don't eat junk, and work out. That's it. That's the big effin secret, but Oprah can't do a years worth of shows pitching that. So she has to pretend that there is a new miracle way to live. And the people who follow her every word spend all their money and time doing as she says and ending up the same as her. With one big difference: They don't have a billion dollars, just a big butt.
p.s. Stop preaching to people that the power of positive thought will make everything better. I bet for years you thought you wouldn't be in your 50's, out of shape, addicted to gurus, no kids, no husband, and nothing to leave behind except for a list of shitty books, boring tv shows, and dozens of dogs that no matter how much you pretend, don't really fill up the emptiness.
2. Bill Maher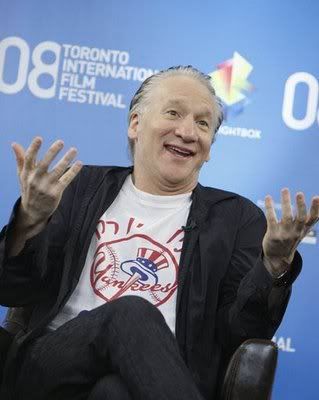 You look weird.
1. Carson Daly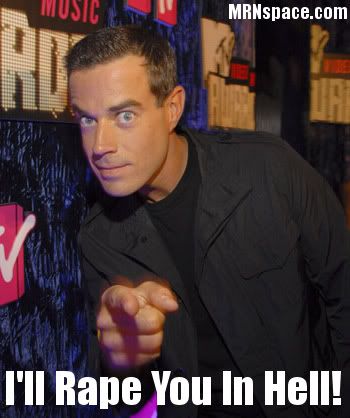 I'm not saying Carson Daly is the anti-Christ, but Carson Daly is the anti-Christ. What's the difference between Carson Daly and the Black Plague? The Black Plague ended. As I've said before, my girlfriend and Carson Daly have the same banker, so he's practically family. That's why it's ok for me to say all this about him. Remember when Carson Daly was entertaining? No? Remember when Carson Daly had a really great t.v. show? No? Remember when Carson Daly had a purpose for living his life other than licking the testicles of boy bands from the turn of the century? No? That's because Carson Daly has never done anything good or meaningful in his life. He has a horrible t.v. show that nobody watches, but it's cheaper to air it at 3am than it is to turn off the broadcasting equipment. He has no real talent, he can't interview, he can't tell jokes, he can't host. He just is. He's sort of like a bowel movement. It's shitty, and it happens 5 nights a week. (I probably should have more fiber)
People often ask me, "MRN, why do you hate Carson Daly so much? I mean, he's not even really that famous." It has nothing to do with fame. It has to do with a man with no talent, no ideas, no opinions, no thoughts, no purpose for being, and likely no human blood. Everything Carson Daly is, I strive to be the opposite of. He's not an evil man. He's not a man.
The End.