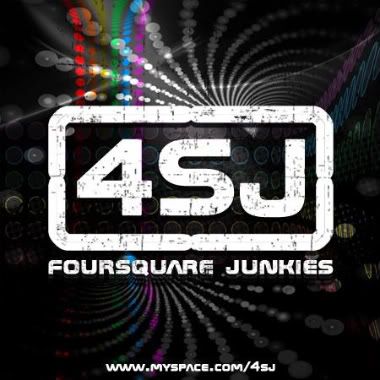 MRN: Hello Foursquare Junkies aka [4SJ], I noticed your music has an electronic sound. Electricity of course comes from Satan. What's it like being in a Satanic band?
4SJ: It's pretty rewarding... wait, what? We are definitely an electronic band, however... No guitarists, bassists, or drummers were sacrificed in the creation of our music.
MRN: Do you ever feel like your band's sound would be better if it was Pearl Jam?
4SJ: Yes and no. More people might like it, but then it would mean that we would have to sing with a mouth full of marbles.
MRN: When a girl says "no." Don't you agree that she really means, "spike my drink and take pictures of my bottom for Japanese websites?"
4SJ: Wow... I don't think we agree with that. Plus we don't have a camera.
MRN: Your band's name is Foursquare Junkies, which of course is a reference to some sort of cult. How did you get mixed up in a cult?
4SJ: A cult? No way. We started the "cult" about a year ago. We realized that everyone (including ourselves) were taking themselves way to seriously when writing music. Music should be about expression and having a good time. We wanted to find the fun in making music again, because I think over the years we lost it.
MRN: I speculate that you have no black people in your band. Do you feel that a black person would steal your instruments? Because I think that's terrible to think that.
4SJ: We are an equal opportunity musical experience. However, you can tell from our occasional rap verses that we are both very white. Someone actually referred to us as a white version of The Fresh Prince & DJ Jazzy Jeff. We took that as a huge compliment.
MRN: You say in one of your songs that, "you can't stop the rhythm of the dance floor," couldn't you just turn off the music?
4SJ: You certainly could, however, people may stop having a good time if you do. Our message is pretty simple, enjoy life - cause your next day could be your last.
MRN: She was asking for it, wasn't she?
4SJ: No comment...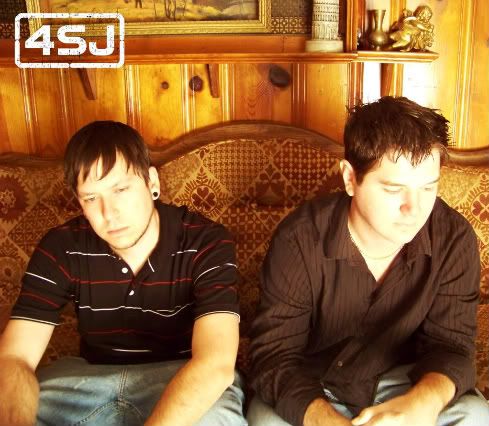 MRN: You do a cover of "Video Killed The Radio Star" the famous song by Heidi Montag. Do you feel that Video really Killed the radio star, and when you really think about that wordage, aren't you really saying that Jews control the media and therefore shouldn't be trusted? Because I think that's terrible.
4SJ: Heidi Montag? Who the hell is that? LoL. Video Killed the Radio Star by The Buggles was the first song that I had heard in the 80's that opened my eyes to the world of electronic music.
MRN: How did your band form? I'm asking about your individual conceptions. Graphic details would be fine.
4SJ: That's nasty... lol. We were just looking for a way to reconnect to music and have fun making it again. No conception involved.
MRN: What do you think of Asian people? I saw an Asian guy the other day, who was looking me up and down for like 15 minutes while I waited for my Sweet 'N Sour Chicken. I don't know if he wanted to eat me or rape me, or both. What do you think of that?
4SJ: We love both Asian food and Asian people - they are delicious.
MRN: What are your musical influences? When I hear your music, I think of bands like The Osmonds, Criss Cross, and Insane Clown Posse. Do you have other influences?
4SJ: Interesting take on the music! We definitely have a ton of influences. People have said they have heard everything from RUN DMC, to The Bee Gees, & even Will Smith in our music. We listen to pretty much everything and try to embrace what makes the music fun & pleasing to listen to. We then cram those musical assumptions into our supercomputer in the studio, and the song is creates itself in 30 minutes or less, or we get our money back.
MRN: What would you like the MRN audience (made up mostly of prisoners, and my nightmares) to know about your band?
4SJ: That we want people to understand that our music is about having a good time and that it should not be taken overly seriously. We are having a great time, and hope others will too. You can find information about our upcoming November 28th show in Youngstown at our site:
CLICK HERE!