By Guest Contributor:
The Cuntmaster 2000
(Yep, that's the name she went with)
Michael Jackson's This Is It!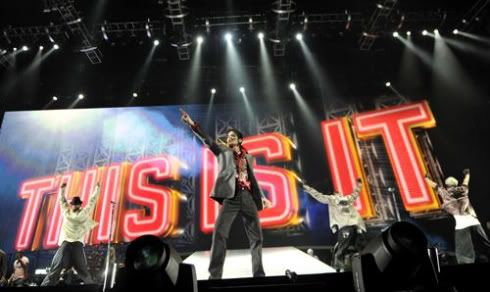 Within the first few minutes, I already rolled my eyes because dancers were crying, sharing their feelings about being chosen to dance for Michael Jackson. The last guy especially made me go, "come on, really?" vis a vis "bitch, please."
Then within seconds of seeing Michael on screen, I ate my own fist and dick (is that the expression?), because I realized, holy shit I'd be crying my eyeballs out too for an opportunity to work with this dood! I mean, shit!
The entire time, I kept shaking my head thinking, "damn he's good, what a shame." Seriously, this guy was the master. Say what you will about his freakish personal life, but at work he is a perfectionist and an absolute genius. He's also quite humble. They show several blips in rehearsal and he constantly reminds not just himself but his staff, "that's why it's a rehearsal." And he's funny, even adorable.
I must point out his t-shirts. His freakin'. Awesome. T-shirts. I could've sworn he was wearing a Wu-Tang shirt at one point, but I cannot confirm. Nor deny. Or betray. I wouldn't be surprised though considering he was also wearing a Popeye shirt at one point, and later a shirt with a dragon body with a dog head wearing a chef's hat!! I looked at that and thought, "be mine," referring to both shirt, and Jackson.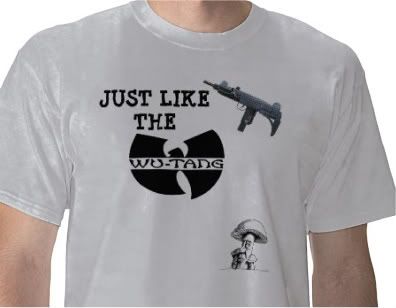 So I should probably get off the fashion and move on to the music. You could tell his favorite was "They Don't Really Care About Us." And his moves! My pet peeve with pop performers is that they don't know jack shit to do with their bodies when they don't have a piece of choreography to go by, so they default to stupid bouncing or for the chicks, to slutty dancing. Michael, however, just figures it out, his body gets it and he can improv like no other. Tell him to dance for an hour straight and he'll do it, using some oldies but goodies, coming up with something new, he'll kill it. Shit. Damn he's good. What a shame. I don't even mind the weird stiff fart waft ditty he occasionally does which is actually termed his "penguin dance" to motion for the music to kick in.
I half expected at one point for him to climb a tree and sing "Have You Seen My Childhood." Dammit. Some dreams won't come true. But had he lived long enough to pull off these performances, it would've been a dream come true for millions of fans. I can't tell you enough how awesome this footage was, and how overwhelmingly sad and frustrated I felt and still feel that he's gone. It's hard to describe. I felt ripped off, like Michael was taken away from me, as though it were that personal.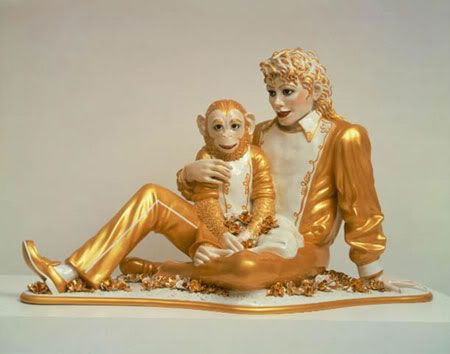 Do yourself a favor, pee everything out of your system and go watch This Is It. I had to hold my piss in so badly but I wouldn't budge because the movie is that good. Pee the pee of your lifetime for the experience of a lifetime. It don't get deeper than that.
Sincerely,
The Cuntmaster 2000