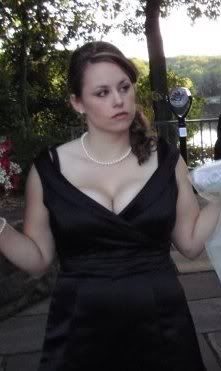 MRN: Hello Brooke, I understand that you run the Oakland Theater. But you live in Youngstown, Ohio. Isn't Oakland California a bit far to drive every day? Haven't you thought about this?
Brooke: I think it's totally worth it. California is really hurting for money right now, so we'd like to help in any way possible. Plus, I mean, that's really the only place you can find talent these days. And you just can't beat the neighborhood...
MRN: I use to do a lot of theater, I won awards and was always amazing and sometimes, awesome. But you've never asked me to be in a play. Is that because of my criminal record and numerous Dateline appearances?
Brooke: Mostly, yes.
MRN: I noticed that there are a lot of gay guys in theater. What do you feed them, and how do you keep them off the furniture?
Brooke: That's a great question, and one we frequently get asked. Contrary to popular belief, most gays don't eat much at all. They live primarily on glitter and purified air. Keeping them off the furniture is another story. They are always on it, like magnets on some type of magnetic surface! I find shooing them with a rolled up newspaper or sometimes spraying them with a water bottle or mace is effective. The worst is when they start marking.
MRN: I always thought gays lived on attention and criticizing others. Oh crap, I live on that! Crap! Moving on ... Most plays I've seen are about things I don't care about. How come you never do plays about boobs, or drinking so much you forget about how much you hate your father, or football?
Brooke: Actually, we do a lot of shows with boobs in them, as well as other assorted naked body parts. And what you don't realize is everything is basically related to drinking, hating one's father, or the terrible shame your mother left you with after years of passive-aggressive behavior.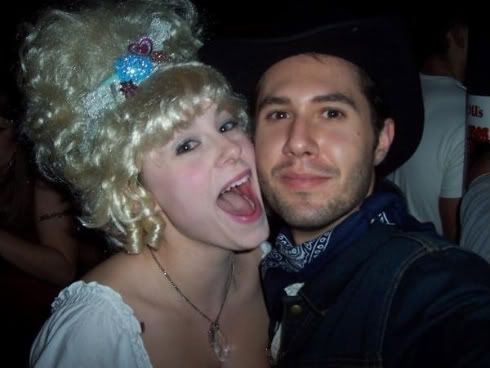 MRN: Oh. Boobs are good. I just hope you don't do RENT. Cuz that is hella gay.

How many Chipotle Burritos do you think I could eat in one sitting?
Brooke: All of them.
MRN: Yep.

So, you M.C. a talent variety show called "The Stage," in Youngstown. I've seen it. Ever think of just letting a bunch of retarded people and midgets go up on stage and freak dance on each other? Cuz, that's what I would do.
Brooke: Isn't that kinda what it's mostly like?
MRN: Pretty much : / You once famously said, "don't trust black people." I might have made that up, but do you stand by that made-up quote?
Brooke: I do, but I probably actually said "don't trust clowns, or those crump dancers who wear clown face" because that's totally true. My question for you is this: why do we still allow clowns to exist? No one likes them, especially not kids...I mean, what motivates someone to be a clown? It's got to be general creepiness. And that's just wrong. I think banning clowns would drastically reduce sex offender activity. Can you make that happen?
MRN: Probably, but I wont. I wouldn't have my clown gig with developmentally challenged young men and women. Ok, ok ... i smear lipstick all over my face and touch retarded kids. Same difference. It was the best job I ever had. Which brings me to my next question: Guess how many push ups I can do at one time.
Brooke: Eleventy million. Now get back to work on that clown issue.
MRN: Wow, you really think I can do that many? That's not even a real number. Thank you! Next question: what are some upcoming shows and events at your theater? And how come I've never seen an Asian person there? Is that a policy?
Brooke: Well, we're working on the Rocky Horror Show now (it runs Oct. 30-Nov 14) but by the time you actually publish this, we may or may not have already done How The Drag Queen Stole Christmas (Dec. 4, 5, 11 and 12), which is a huge hit and always sells out. People like drag queens during the Holiday Season. Then we'll be doing 4 "straight" plays (like non-musicals, not non-gay) in 2010: An Adult Evening with Shel Silverstein, Dinner with Friends, Wit, and Back of the Throat. I'm too tired to type what they're about, but they'll be super awesome.
Oh, and the Asian thing. I don't know. My friend Jeff Chann comes to a lot of shows. He's Asian. Maybe we should do a campaign to get more Asian involvement at the Oakland.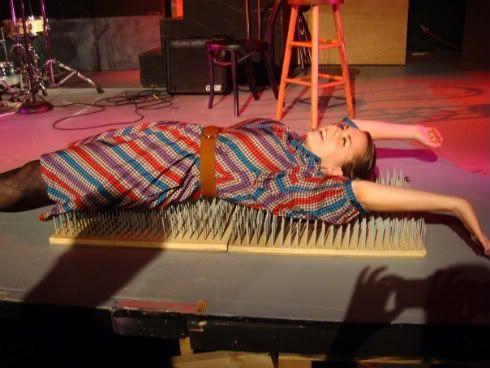 MRN: "Jeff" isn't an Asian name. You must have mistyped and meant to say "Chong," or "Ching," or "Sweet 'n Sour Pork." I think it should be an Asian-Only theater. Just don't let them drive. (They have no peripheral vision.) When I sit in a theater, I like to sit in the back, because I'm afraid brown people might sit behind me and shoot firearms. How did you get involved in theater?
Brooke: lol. Well, I use theater as a form of therapy. Being on stage is a good excuse to let one or more of your multiple personalities out to play. Then people are impressed with your strong "acting" skills. But since the new meds started kicking in, I find it much less necessary to be on stage.
Honestly, my involvement at the Oakland came at a time where I really needed a change in my life. I was in a depression and had just gone through a break up, and I found the idea of acting something that lifted my spirits. I auditioned for a show at the Oakland after reading an audition notice in the Vindicator. I didn't know where it was or what the show was about. I can't imagine where I found the courage to walk into a room full of people I didn't know and get up on stage an audition, but I did it. And it was the most rewarding move I ever made. I met some of my best friends at this theater, and the opportunities that have been provided through my ever-changing roles here have been so rewarding.
MRN: If you could let the MRNspace audience (made up mostly by sexual predators and Mexicans) one thing about The Oakland Theater in Youngstown, Ohio, what would that be?
Brooke: Clowns are evil, and the Oakland does not support them or any clown-related activities. P.S. for all you h8ers who might point out similarities between clowns and drag queens, drag queens wear a lot of makeup but they hardly ever harass small children...and at least they say snarky things to your face!
MRN: If you want to learn more about the Oakland Theater in Youngstown, Ohio (a horrible place you should avoid with the exception of the Oakland Theater and Brooke) you can go to their blog here: Oakland Theater! Or check out their Facebook page at: Oakland Theater On Facebook!