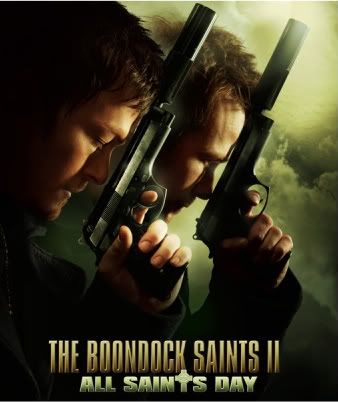 Boondock Saints 2: All Saints Day.
Review by: Cuntmaster 2000
Once again, the beginning of a movie made me angry, rolly eyed and somewhat horny. Rocco's little speech at the beginning of Boondock Saints II: Electric Boogaloo made me stick my upper teeth out in beerneerneerneer banjo fashion and roll my neck in circles. There's nothing more I hate in life than SOCIAL COMMENTARY. Ok, we get it, the indifference of man, blahdeeda, suck my cock.
Then it gets worse. The boy wonders are back in Ireland sporting Jesus beards and I sank myself deep into my seat, cringing with how retarded this movie was turning out to be...but then...
A single, lonely Mexican saves the day. Their new Rocco really steals the show and it turns up, way up, so high I hit the ceiling when I spooged. I'm telling you, this sequel is some funny shit, and good funny, not embarrassing funny. Great one liners like...well crap, I don't even want to give up the one liners because that's part of the greatness of the movie. I'll leave you to discover them and have yourselves a lolz. I don't even want to tell you who dies. It got an "awww" out of me. The only spoiler I'll give up is John Sears, Kelly Taylor's brief love interest on 90210, makes a small and pointless appearance. It got a "Hey, it's John Sears" out of me.
Awws and lolz all around I tell you. I suggest you check it out if you're a fan of the first. This movie has gotten horrible reviews from the media but great feedback from fans. Honestly, I thought I was going to hate this movie even though I did like the first. I liked both regardless of the director's blatant biting--sure he stole bits of bad ass-ed-ness from the likes of Pulp Fiction and The Professional but he puts it together in the right way. I was shockingly surprised instead of horrified by the sequel, and trust me, I'm a judgmental bitch. I'll be the first to tell you if shit stinks, and this smelled of roses and hot Irish donkey sweat.
Having said all that, I DO understand why the bad reviews. Like most sequels, it's a parallel, almost a complete copy of the first except with different side kicks, new side plots and venues. But if it ain't broke, don't beat it with no sticks. Predictable? Sure. But I value the overall movie experience, action and entertainment. Not everything has to be a Citizen Kane or a pansy-ass dark indie rom-com vis a vis anything Zoey Deschagay.
After the first few disappointing minutes of the movie, the only part that continued to make me go "uhhhrrrt, hurdy hurdy hurdy hardy hardy har" and hop up in a square dance is that chick who takes over Willem Dafoe's role. She attempts to be so bad ass, too bad ass that it would turn any feminist into a misogynist. I hate it when bitches try to act all hard. Stupid behtch. However, she sort of grows on me too by the end of the whole deal, lawly bawlz. It seems like everything that starts off retardo gets wrapped up into a lovely Christmas package by the end of it all, and in that package is a couple of spotted potato dicks, blood, guts, pennies and a hint to the next movie in the trinity of bromoeroticism.
- Cuntmaster 2000