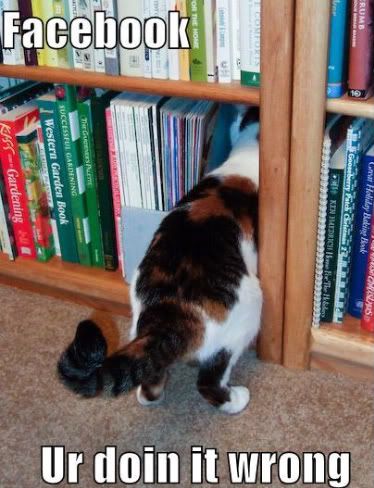 If you have facebook (the new "myspace," which was the new "friendster," which was the new "people actually going outside") then you've probably seen these "25 Things" list. It's going around faster than chlamydia.
This is what the rules say:
Rules: Once you've been tagged, you are supposed to write a note with 25 random things, facts, habits, or goals about you. At the end, choose 25 people to be tagged. You have to tag the person who tagged you. If I tagged you, it's because I want to know more about you.

(To do this, go to "notes" under tabs on your profile page, paste these instructions in the body of the note, type your 25 random things, tag 25 people (in the right hand corner of the app) then click publish.)
I know, I know, too much work, and you wont do it. But then you get tagged like 100 times, and you find yourself alone on a Friday night, in your underwear, eating peanut butter from a jar, and letting your dog lick your feet because it's the most stimulation you got going on in your life. So you give in, and you fill it out.
Here is the MRN list of 25 Random Facts, Thoughts, And Things About Me!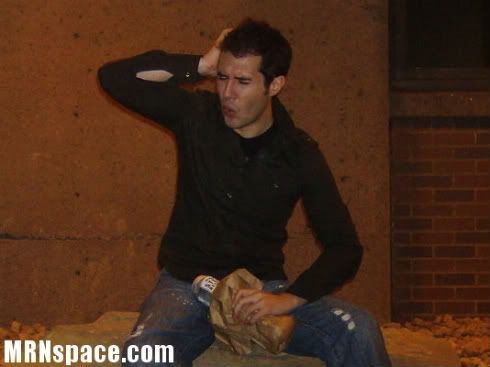 1. There are only three things that I find more useless than Carson Daly. And Carson Daly are all three of them.
2. I've noticed your Mom giggles a lot in her sleep.
3. The truly greatest gift someone can give someone else is gold bars.
4. If i could only listen to 5 bands the rest of my life they would be Depeche Mode, Architecture In Helsinki, Radiohead, Morrissey, and of course Nickelback. There'd be no Beatles without Nickelback.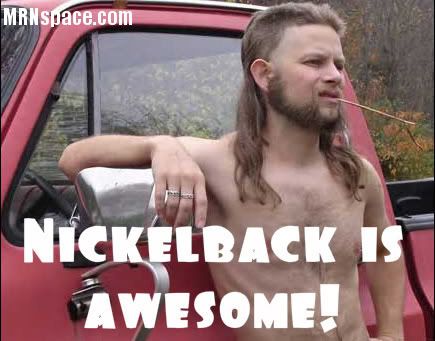 5. I've noticed your Grandma snores a lot in her sleep.
6. I don't care what anyone says, crime should be illegal. Sorry for getting all political.
7. I think it's weird that girls produce a lot of the same things I find at the grocery store. Milk, eggs, ... yeast.
8. I've noticed your Grandpa talks a lot in his sleep.
9. I think Lebanese are hot. Especially watching two of them kiss.
10. I think "global warming" is a complete and total scam exploited with junk science. I have for years. Someday when it's clear I'm right, I expect to be made king of America and brought succulent meats from around the world by slave girls.
11. People don't believe I'm 30. Moisturizing is the key. I'm nothing if not moist.
12. I've noticed your dog farts a lot in her sleep.
13. Did you know that a persons eyebrows tell you pretty much everything about what's going on downstairs? Carpet matches the drapes. Now try NOT looking at your families eyebrows at dinner.
14. I really hope when people die they don't really get to look down at you all the time and see what you're doing. I don't like thinking about my grandma watching me poop. ... and other stuffs : /
15. Michael Gross is a national treasure.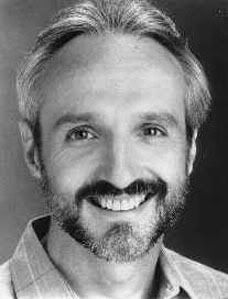 16. You know what word is funny always? Fart Burger, you know what word is funny almost always? Stink Butt
17. I've recently started saying "Toilet Tissue" instead of "Toilet Paper." I can't reverse it. It's become the biggest disagreement between my girlfriend and I. Leave a comment about who is right.
18. I think my least favorite minority is Armenians. I don't get it. What are you? Some kind of Russian? Don't make me google it, i don't want to learn, just say your Mexicans so I can understand it.
19. I've noticed your not really doing much with your hair lately. Um, yeah ... it's not good.
20. You know what show I like now? Red Eye, yeah, you never heard of it. You know what else you never heard of? Deodorant. Stop embarrassing your family.
21. Fart Burger
22. You know what's better than Unicorns? Nothing.
23. If i could be a tree, any tree ... i would be a country.
ba da ching
24. I've seen things you people wouldn't believe. Attack ships on fire off the shoulder of Orion. I watched C-beams glitter in the darkness at Tan Hauser Gate. All those moments will be lost in time like tears in rain. Time to die. - lolz I'm going to start saying that every night to my girlfriend instead of "goodnight." I guess I like to ruin things : /
25. Women should not have children after 35. Really... 35 children are enough.
ba da ching
thanks for coming, tip the veal and try your waitresses, goodnight everybody
P.S. Thank you Digital City.com for the mention. You my bro now. That means we stick together ... forever.
Funny Hobbiest Bloggers
Follow me on twitter: http://twitter.com/Michael_Noll