I had a dream that I was sitting on a cliff at the edge of the universe. The stars spoke to me, they said "you suck ass!" I was like, "wtf, what did I do?!" And then they reminded me of this website : /
So here is part two of things I'm sick of: no. 59 to 11!
59. Being Told What To Do -
No good. People who start sentences with things like "Why don't you ..." or "You should do ..." Pretty much whatever you say after that I'm going to do the opposite of. Even if someone tells me to do something I was going to do anyway ... I wont do it. I could spend all day making a cake and then if some ass tells me to eat it, that's it, I'm dumping it in the toilet. I don't mind being asked to do something, or if someone is telling me what they think, after I ask them. But if you tell me your worthless, useless, shitty opinion on what I should do, and I didn't ask you. I promise you, I will do the complete opposite out of pure spite. I haven't peed in 24 years because my grandma told me I should. My bladder might have burst years ago and my insides might be drenched in urine, but at least I'm living my own life.
58. Dingle berries -
You little traitors, I thought I got all of you. Now I gotta change my pants before going to this wedding.
57. Weddings -
Statistically it's not going to last, so can I just wait and get dressed up for your funeral?
56. People Who Hate Wal Mart -
Ok, so every time I go in Wal Mart all I see are people who fellated farm animals. But you know what? Chicken butt. I don't care, the prices are great, and don't act like you have a lot of extra cash. Most of you can barely pay for sex. Wal Mart might close down some local Mom 'n Pop stores, but you know what? Mom 'n Pop have been ripping you off for years. Those bastards charge 4 dollars for a jug of milk when I can get it at Wal Mart for 2! You can have your little crappy corner store and I'll have my delicious succulent 2 dollar bovine titty juice.
55. People Who Criticize This Website -
DON'T COME TO IT THEN! I'm not forcing you like your dad forced you when you were 9! If you don't like what I write on this site, then let me invite you to please explore your own anus. Kick your mom out of there, she doesn't even pay for rent anymore after I stopped paying her for sex. So you have plenty of room to place your entire head in there. You'll like it. It's warm, it's safe, and you can complain all day about MRNspace.com. You can talk to your own poop. "Hi poop, I hate MRNspace.com, who does MRN think he is anyway? He acts like he's some kind of celebrity or something." And then your poop can say "Plop." And the two of you can live happily ever after and try to get congress to change the law so you can get married. You and your excrement can spend the rest of your days talking about how much I suck and picking peanuts out of each others bodies.
54. MRNspace.com -
Worst site I've ever seen. I don't even get it. Who the hell is MRN?! Is that a real person?! It's so weird. Half of it is just pictures of cats.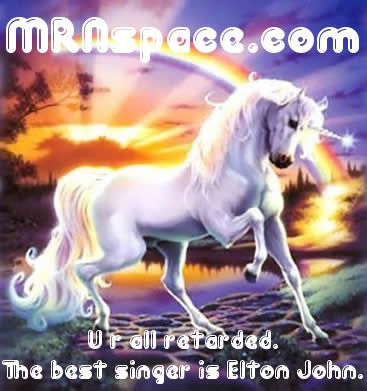 53. My Testicles -
Why would you make things that can get hurt like that Jeebus?! Is this some kind of joke?! For all the ladies out there who don't understand this one, let me explain. Imagine having the most sensitive part of your entire body times 10, then imagine it hanging out in the middle of your body, protected only by an extremely thin sack of skin. It's our self destruct button. If I even see someone getting hit in the sack, I have to go spend some time alone to weep.
52. Fighting Fair -
I don't get it, it's not a boxing match. If you fight me, I will punch you in the balls. I want to win, not impress you.
51. Peer Pressure -
I'm 30, so I don't really deal with this anymore. But since a lot of my viewers are about 8 years old, you probably do. Don't succumb to it. All your friends are retards. The last time I was pressured to do drugs, the guy pressuring me ended up hanging out of a 2nd story window. It's your life kids, don't let any ass junkie pressure you to do anything, ever. You do what you want, and don't care what people think. The people pressuring you, will all end up being raped in prison by their own uncles. Don't be like them.
50. Goths -
You look stupid.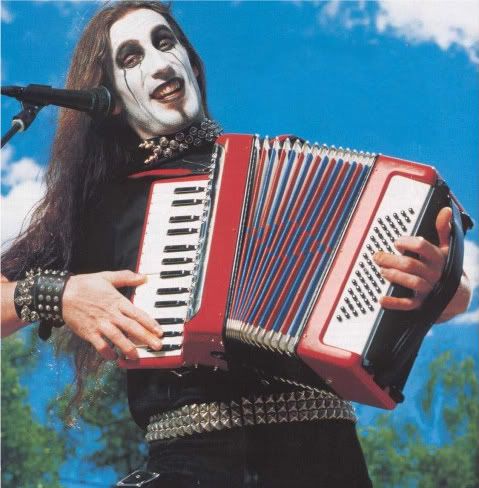 49. Hot Dogs -
I hate you. I love you. I hate you so much for being so delicious. I wish I just didn't care anymore, and could sit in a tub of chili and eat hundreds of you all day. You son's of bitches taste so good. I like mini hot dogs, foot long, and regular sizes. I know it's the gayest food ever, but I don't even care. Sticking a wiener in between a nice soft bun, then sticking it in my mouth. It's the most homosexual food we have, but it's also the most delicious. I love you hot dogs. But you are made of fat and earth worms, and you will make me look like Rosie Odonnell. I love you, and that's why I hate you.
48. Nickleback -
How do people like you? You suck hard enough to swallow my brains. You are the worst band in the history of horrible. People actually like you. People I know even actually like you. You sicken me. You are Canadian. You aren't real.
47. Dry Skin -
Why do I get dry skin now?! I went from being a pizza faced grease factory to being dryer than Oprah's who-ha! I miss the old days where I had zits to pop like bubble wrap. But now I have to moisturize so my skin doesn't blow off in slight breezes.
46. Non Meat -
You are just decoration, you know that right? I like meat. I like anything that once lived and was happy, and had a family and had hopes and dreams. I like them because they are the most delicious. A carrot didn't have hopes and dreams. It tastes stupid.
45. Juggling -
You are too hard. Professional women with children, and clowns do you.

44. Your Pool -
Why wont you let me in it? Is it because of what happened last time? I'm sorry, I don't do that anymore. I can't, a medicated cream prevents me.
43. Washing My Clothes -
I wish we just all wore paper clothes so it would be easier. Washing clothes takes a lot of time in my day. It makes me sad and the chemicals gave me asthma. Plus paper clothes would be fun because when the light was just right you could pretty much see EXACTLY what your grandma's boobs looked like.
42. Uranus -
Not the planet. I'm talkin' about your dingle berry farm. You should take better care of yourself.
41. Gold Chains On Guys -
Have you ever seen your dog's anus the moment before it opens up to defecate? You look like that.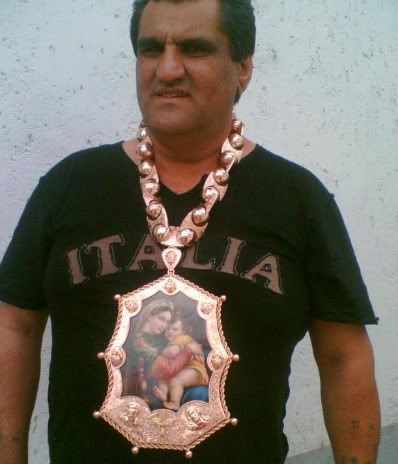 40. Babies -
You are the worst conversationalist I've ever met. You smell bad. You are too loud. You almost never work. You are very lazy.
39. Beards -
You are so itchy! You always tickle my belly. Wait, what? Sick.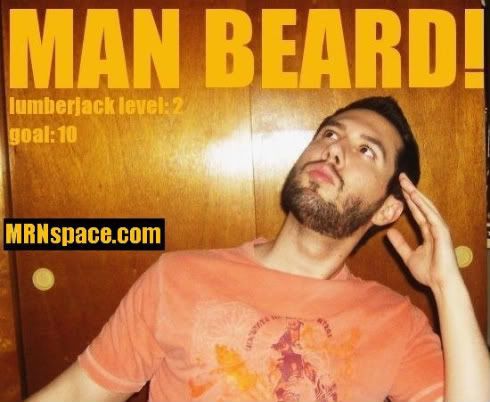 38. Non Beards -
Any man who doesn't grow a beard at least once in their lives, is deep down a woman with messed up genitalia.
37. Prepubescent Mustaches -
Sick, either make it grow, or shave it. 90% of the guys who have these wear black t-shirts, light colored jeans, and black high top tennis shows. You probably think you are very cool and are also mad at the world. You go home every night, read comic books, and then masturbate while listening to Marylin Manson. Stay away from my future daughters.
36. Cactus -
Ow! You bastard.
35. People Who Talk In Movie Theaters -
I didn't drive all the way to the theater and pay 10 bucks to hear your opinion on every single mother effin scene of "Madea Goes to Jail." You aren't in your crap-hole house, you are in a public place and I can hear every single thing you are saying. So please, please, shut the eff up! Just shut up! For two hours! Then talk all you want, but for two hours can you please shut your fat std riddled lips so I can hear this brilliant Tyler Perry dialogue?!
34. Lobster -
You look like a giant read insect, and you smell like vagina.
33. Daylight -
I never saw the movie Twilight, but from what I can tell it's about some kids at Hot Topic who become vampires and eat deer. My point is, that daylight is overrated. It causes cancer, and forces me to wear sunglasses that never fit my odd shaped head correctly.
32. Cavities -
I'm pretty sure I have one. It's the reason I can't eat bags and bags of Hershey Kisses anymore. Someone really should fix this. It hurts. Why wont you fix this?! I'm going to end up with dentures. I brush my teeth almost too much. I can brush away the food, but not the shame. This pain isn't just in my mouth, it's in my heart.
31. Juggalos -
A couple wiggers get together and do some horrible rap with clown makeup on, and you decide to base your lives around that?! Also your symbol "hatchet man" is actually holding a meat cleaver. Wait a second, what am I doing? That's really the least of your problems. Enjoy your face painting and meth. P.S. Faygo pop tastes terrible. Get a job and buy Pepsi.
30. Dignity -
I'm not sure what that is.
29. Getting A Boner At The Grocery Store -
Look, sometimes it just happens. I'm not gay for produce and dry goods, it's involuntary, out of my control!
28. Teachers -
I learned NOTHING from you. Everything I learned was from television. The greatest teacher I ever had was cable television. Discovery Channel, The Learning Channel, Nick At Night, BET, and Cinemax after midnight.
27. Hippies -
Let me start by saying, half my friends are half-hippies. And I love you. But out there in the country are 100% hippies. And you suck it hard. Take a bath, shave your face (especially the ladies) and stop telling me how to live my life! I like cutting down trees, I like eating animals, and I love me some nuclear weapons. Just leave me alone! Wash your filthy hair and shut the holy hell up! Gosh darn, you need a kick in the throat. You judgemental, high horse riding, tree hugging, Frisbee tossing, self-righteous bastards!
26. Computer Nerds -
You little jerk. Don't act like I'm stupid because I don't know how to install RAM. I will beat you and leave you for dead, you little zit-faced 40lb hardware snob! You know a lot about computers. I'm sorry that you were picked on in school, I'm sorry that your dad is disappointed in how you turned out, I'm sorry you don't know how to throw a football. But none of that is my fault! So lose the attitude when I ask you how to fix my pornography machine!!!!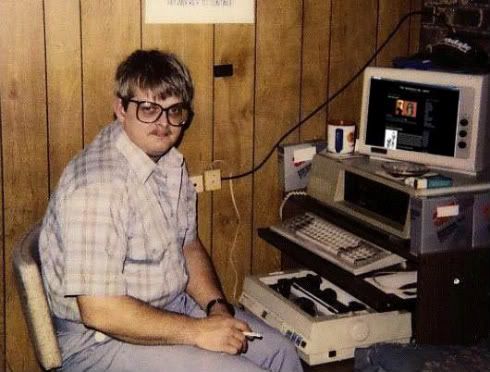 25. Toddlers -
You aren't better than me. I can poop in a toilet ... kinda.
24. Long Lists Of Things -
Nothing, and mean NOTHING is worse than having to read a looooong list of stuff that seems to go on for freakin' ever. It really makes me sick. It's mostly what's wrong with America. There are only 2 things that make me more sick. Being alone with myself, and morbidly obese people having periods. Just make a short list! Anything more than 10 things, is too much.
23. Grammar -
I know my grammars pretty good and stuff but I hate being corrected when my grammar bad : /
22. Can't Hardly Wait -
That means you CAN WAIT! Damn you! Damn you and your double negatives Jennifer Love Hewitt, you national treasure!
21. Oh Man I'm 21, I'm Gonna Get So Wasted! -
Don't be a cliche. When I turned 21 I drove an hour up to a duck pond with my best friend and fed ducks all day. Best birthday ever. You don't need to get hammered when you are 21, you'll have plenty of time to do that later in life. I recommend you wait until you have children. It'll give the whole family something to talk about.
20. The Hair On The Back Of My Neck -
Why do you keep growing so fast?! I feel like Teen Wolf, or a Greek Guy! Stop growing so fast! I can't shave you, I'm not good at it.
19. Airport Security -
You asses. Stop acting like you are so authoritative when you steal my bottle of contact solution because you think it's a nuclear bomb. You suck.
18. The Mall -
Why are you never the right temperature?! I'm either freezing my nips off or I'm sweating so much balls, college kids are playing beer pong below me. Pick a normal temperature, or so help me gawd, I'll stop shopping at Forever 21!
17. Dudes Close Talking -
Stop it! Back up dude! You are getting spit in my mouth and it makes me want to puke on your forehead. If we're someplace that is really loud, then we just wont talk, I don't want you practically making out with me so you can tell me about your awesome weekend. I don't really care in the first place, and 2nd, all guys should be at least 6 feet apart during any kind of conversation. This isn't prison, we don't have to resort to that out of loneliness.
16. K-Mart -
You suck K-Mart! Your prices are too high, your selection and service is crap. If that criminal Martha Stewart didn't sell her overrated pans there, you would be nothing! I hate you. I hate your lousy selection. I hate your long lines, and employees who all have pimples that are about to burst all over me.
15. Hockey -
You are SOOOOOOOOOO BORING! A bunch of Jason's figure skating for 2 hours with sticks and then I look up and see the game ends at a 1 to 1 tie. No.
14. Tampax Pearl -
Am I right ladies? I don't know what this is.
13. HD TV -
I was told It would be like looking out a window. But when I look out my window, I don't see a blurry tv screen. I see bunch of fat rednecks playing corn hole. (I so need to move.) Until the picture looks so real that it causes serious psychological issues that create problems in my relationships with people, I WILL NOT buy you!
12. College Kids Who Wear Che Guevara T-shirts -
Che Guevara was a totalitarian, cold blooded killer who succeeded at nothing but cruelty and sending gays, AIDS victims, and anyone who disagreed with him to labor camps. All you liberal hippies who wear his shirt that you bought at Hot Topic are asses. He would have killed half of you and you pretend you are are with him. I'm glad he's dead. Your t-shirts suck. You suck.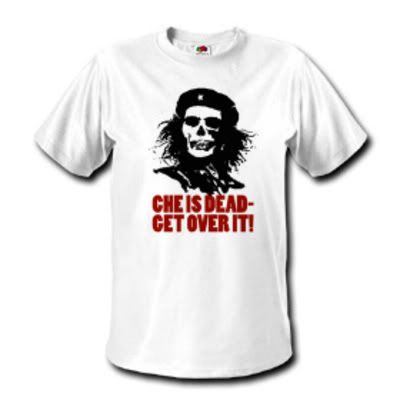 11. These Banana Nut Cheerios I'm Eating -
You taste like medicine. Why did I buy you? I should have just gone with my first instinct and bought a gallon tub of pulled pork and skittles. But nooo, I decided to lower my cholesterol and have some much needed potassium. And now look at me, I'm sitting nude on cinder blocks eating this horrible cereal that tastes how old people smell.
Stay tuned next week for the TOP TEN THINGS I'M SICK OF!
Part 1: 101 things I'm sick of 101 - 60
Part 3: 101 things I'm sick of 10 - 1!
***Please visit my brand new website and enjoy the crap out of it: MNinstitute
Thank you very much. I love you. - MRN