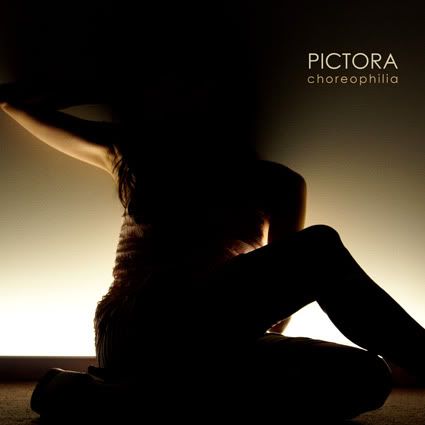 I sat down the other day. In other news here is an interview with Sean from the band Pictora:
MRN:
I noticed you have a woman singing in the band. How does she balance being a lead singer in a band, and cooking 4 meals a day? And have you noticed the meals beginning to suffer?
Pictora:
She is doing just fine with balancing it out. I think. I don't know, I never asked her. She has been locking herself in her room quite a bit lately and just crying herself to sleep. So she must be OK, cause I always have trouble falling asleep.  
MRN:
Pictora's sound seems to have a lot of electronic influences. According to the "Ordnung," the only righteous list of rules according to me and Amish, your use of electricity is flashy, arrogant, and worldly. Are you afraid of alienating your Amish fans? The only true and good people who will live on forever as you perish in the fiery, unforgiving flames of hell?
Pictora:
This has nothing to do with the actual answer to the question, but an Amish man once threw a potato at me. I don't know why. He ran off laughing. I did nothing about it too. Something like that catches you so off guard and leaves you frozen. I think I was actually catatonic for 2 months after this. I just remember kind of snapping out of it and I had a full beard. Still have the beard to remind me of what the Amish are capable of.
MRN:
How many covers of "Air Supply" can the typical "Air Supply" fan expect at your shows? There's only one right answer.
Pictora:
Oh boy. Now you want me to get started on Air Supply. When I first started this band, I was deeply entrenched in the AS (Air Supply) album Life Support, their 1979 concept album. And I thought this is the "new" sound I wanted. However, while the sound was right it was the lack of structure that still gave me doubts to head in that direction. It was shortly after when I was at an "Enchantment Under the Sea" dance for my school that I heard AS "All Out of Love". I immediately phoned my cousin and had him listen to it. It was set in place, Pictora had found it's new sound. We began working on stuff influenced by AS, but were unable to capture or shall I say at least do justice by it. So we moved on to just covering a few tracks, "Even the Nights are Better", "I Can't Wait Forever" which is from the Ghostbusters soundtrack to name a few. All in all, in the end we had 17 AS tracks that we were covering. So to answer your question, you can expect zero AS songs from us. ASCAP and BMI are bitches about that.  
MRN:
When I listen to your new songs, I think of artists like P.J. Harvey, Gnarls Barkley and of course Hoobastank. Big Hoobastank fans?
Pictora:
We are fans of the early stuff. Isn't that what everyone says about every band? The other two, PJ Harvey and Gnarls Barkley, never heard of them. They sound like NBA players.
MRN:
The band is made up of Sean Tress, Aspasia Lyras, George Lyras, Matt Celio, Alan Williams, and Brendan Gaunter. Two of the members of the band are married. Judging by the names, I would assume that'd be Matt, and Alan. Does the sexual tension among band members come across in the music? The way it does for Linkin Park?
Pictora:
You are somewhat right. The band lineup is of myself (married), Aspasia (married), Alan (married), George (dating), Matt (single), and Brendan (bi-curious and not really in the band). Our sexual tension is currently at missionary but slowly working our way to reverse cowboy. We are new at this. It's like when you begin dating someone. The first time is all soft and lovely, which no one wants, but you don't want to be the crazy one to suggest a rusty trombone on the first date. We do try to keep it personal and not talk about it interviews or mix it in our music. Linkin Park has a whole thing of their own with the mix of sex and music. They obviously were the first to actually capitalize on this.
MRN:
What was the motivation to start this band? And what are some of your influences? (This is real question!!! WTF?!!)
Pictora:
You serious? We are going from Barbara Walters tear in the eye rusty trombone gold to this? Motivation is our passion and pure deep love for music. To do it for the fans. To have the ability through art to move someone, or perform for them with that one show that can change someone's life. Or better yet, change the world for the better with the power of music!!! Motivation in our eyes is unnecessary. Who would not want to do this? Who would not want to become this powerful and stupid rich by making music? Do you realize the control of the world I could have just by writing stupid songs. As far as influences, probably Lex Luther.  
MRN:
Tell me about the name of the band, "Pictora." When I think of Pictora, I think of pictures, when I think of pictures, I think of pornography, when I think of pornography, I think of 18 year old Asian girls, with smacked bottoms and pixilated genitalia. Is that what you were going for in the name?
Pictora:
Why do they pixelate the genitalia? And since they do, why not just play it on NBC on Thursday nights. Can you imagine primetime porn? That would stop this "Lost" craze. But about the name, Pictora actually is Latin for "MRN eye pleasure".  
MRN:
This question came from a website that had ideas of what to ask bands in interviews: Where is your hometown? Do the people who are black at home support you? (you could point out the typo for "black" instead of "back" if you want)
Pictora:
Ha, this question is great. Like a Channel One interview question. I saw an interview with Taylor Swift with questions just like this so I will just repeat her answers. "I don't have a hometown. I been roaming from town to town shacking up with any stranger in return for unspeakable favors." She went on to say, "People who are black at home probably have no fucking clue who I am." Taylor Swift was not at all how I imagined her.
MRN:
Something a lot of music fans are talking about lately is the influence of artists like Lady Gaga and Justin Bieber. They're really raising the bar. Have you felt the pressure to compete?
Pictora:
I can understand the Lady Gaga thing, but Justin Bieber? Who the hell is this child? What does he do? Why? Seriously world, why? Shouldn't he be in school getting his ass kicked during recess. It helps build character. Does anyone know that he plays trumpet? He plays trumpet and isn't in the school band. Seriously, what's the point of this boy?
MRN:
I knew this Pakistani girl once who was like almost completely covered in dark hair. Like a wolf girl. Sometimes I would just stare at her neck and look at the part she shaved. It looked like little black ants trying to escape her body. What does Pictora think of the recent health care legislation passed by congress?
Pictora:
Ah, the Nadia of your life, Sayid. The band itself has a mixed view on healthcare legislation. I mean we all agree in principle on the matter. Everyone can have healthcare if they want it. Insurers will not be able to stop coverage to those that have become unemployed and medical costs should be blah blah blah blah.... I am rich. I can pay a doctor to remove your (MRN) heart and give it to me to use for a game of kickball. So imagine what kind of attention I can get when I really need that heart or brain transplant. Are you telling me that doctors or technology can't perform a brain transplant? Well then I'm telling you, apparently you are unaware of what a real healthcare plan will cover. So let's get back to it Congress.
MRN:
When and where can people see you play?
Pictora:
We are playing several shows in NYC, then skip through PA (again the Amish hate), and will play Ytown and several other Ohio towns, and continue to work our way to Chicago where we will playing the weekend of the Pictchfork festival at the Elbo Room. Then back again to NYC. I think. I am really unaware of where I am suppose to be.  
MRN:
Is this venue within 100 feet of a school or daycare?
Pictora:
No. We wanted to make sure you would be able to attend.
Check out Pictora's music and touring info here!
And check out pixelated images of nude Japanese women here!
*** Please visit my brand new website and enjoy the crap out of it: MN institute
Thank you very much. I love you. - MRN