After weeks of trying unsuccessfully to make reservations over the phone, I decided to just go ahead and see If I could be lucky enough to get a table. I figured it was a long shot, but to my great surprise, I must have arrived at just the perfect time. There were very few diners at the local restaurant called Burgèr King.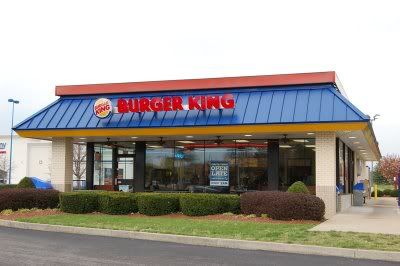 Once I arrived, I noticed the handsome combination of light brick and colorful plastic that helped to accent the large glass windows. A combination of traditional early American and modern design. The large glass windows gave a sense of openness and welcoming. The bright and drastic color motif told me immediately to be prepared for something daring and exciting for my palate.
I entered the establishment at the side entrance. I was there for an early supper menu. I must have arrived to early for the valet service. Once inside I noticed so many beautiful things, it was almost more than ones eyes and ears could handle. But after taking a deep breath, I soaked in all of the sights and sounds. A smorgasbord of delightful colors, lights, and beeping noises soon became the backdrop for what would be one of the greatest meals I have ever had the great privilege of eating. More on that later.
After taking a moment to soak in the ambiance, I made my way to the maitre d. A French man dressed in what was obviously the latest in French fashions. He wore layers of faux worn plaid shirts and sweat pants. He had a very strong and almost pungent odor, obviously after a lunch of fine Brie de Meaux cheese. He had a small placard with him that said something in French that I could not translate. "Needmon ey forfood." I asked him if there was an available table without having a reservation. He said something that to the untrained ear, would sound like mere gibberish. But I recognized as someone from the Saint-Étienne of France.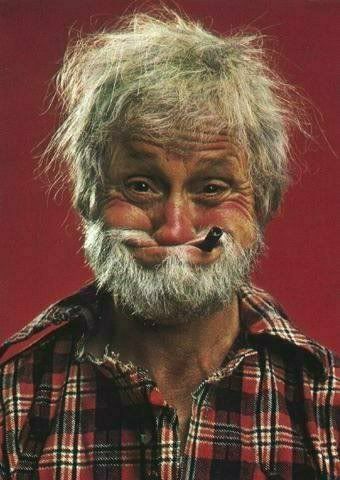 As is, I suppose customary, I handed him a 20 dollar bill, to help my chances of getting a table. It indeed worked. He gestured to an empty table in the main dining room. He then reached into his pants and aggressively scratched his genitals. But of course, this is also customary for a French man.
I sat at my table and waited for my server. But after 20 minutes had gone by, I realized that this was not dining in the 20th century, this was very much a dining experience for the new millennium. Gone were the old fashioned notions of table service, this dining experience demanded participation and full immersion of oneself. Empiricism was the point, and while not on the menu, truly as important as the dishes served. In other words, I had to get up and go to a counter.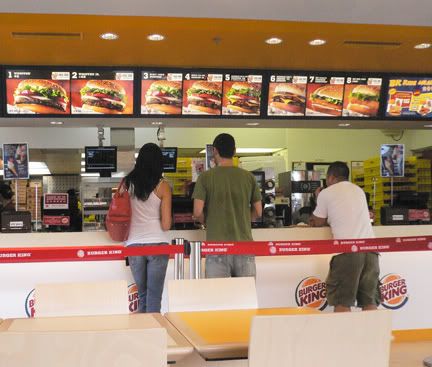 The menu was not in a leather bound book, but instead was right above for all to see. Sort of a communal menu, part of the diners shared experience. I asked the waitress at the counter, "what is your specialty, what would you recommend to a foody on his first visit?" Without any hesitation the waitress replied, "Number 2." They number their entrées. Another novel invention. "Number 2 it will be then, and may I have a wine list?" Apparently they do not serve wine. But as the waitress pointed out, "We got Hawaiian Punch, that like wine." Having never had the pleasure of sampling Hawaiian beverages, I couldn't pass up the opportunity. "A Hawaiian punch it will be then!" "You can get it over there," she replied.
Having the patron take part in the service of their own meal really did take me into the whole experience. I felt as though I was not simply a spectator, but instead truly a participant. And my participation would be greatly rewarded by the main course. This reminded me of the Peruvian beach restaurant encounters of my youth. Oh those were the days. What a buoyant and keen young man I was. But those tales of mischief and sometimes hijinks are better reserved for another time.
After my wait of what seemed like only 1 minute, my main course was handed to me on a colorful tray. The main course was a gourmet sandwich that was carefully wrapped in dyed paper, to keep it at the perfect temperature. The side item was a kind of fried cut potato, similar in every way to a French dish known as a "fry."
I carefully perused the beef sandwich called a Whoppèr. I was first taken aback by the lush greens, and bright red tomatoes that lied on a flame broiled, what I assumed was a, ground Kobe beef patty. It was smothered with what tasted like melted goat-milk cheese. There was a unique sauce, clearly meant for a sophisticated connoisseur of fine food. The French styled fried potato strings, were a perfect compliment to the beef sandwich. Light, crispy, and perfectly seasoned.
I see why it is called the Burger King, it was a meal for a king. I am humbled and honored to have had the privilege of enjoying such nouvelle cuisine.
★ ★ ★ ★ out of four stars.
*** Please visit my brand new website and enjoy the crap out of it: MN institute
Thank you very much. I love you. - MRN